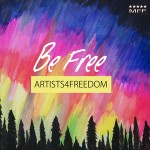 Charity Digital  Album "Be Free" by Artists4Freedom. All funds support survivors of human trafficking and slavery, see their website FSTH.ORG.

Art work by Majella Blijdenstijn. Cover design by Meg Nezaj. Check out Artists4Freedom on Facebook for updates. Thanks to Gia Ibarra and  Meg Nezaj for making this happen. Featuring songs by Iwystars, Harry Loco and Johnito .
Tracklisting
1.Changers' Song – Iwystars
2.Dear Michael – Harry Loco
3.Summer Jammed – Johnito
4.2012 The Song (Awake – Harry Loco
5.I Am Here – Johnito
See globalfreedomconcerts.org for more info.
Be Free will be available in all major online music stores, including, and distributed through CD Baby
Exact release date to be announced very soon!