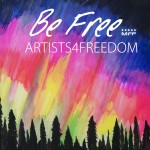 Out now in all major online music stores: Charity Digital EP "Be Free" by Artists4Freedom. All funds support survivors of human trafficking and slavery, see their website FSTH.ORG.

Art work by Majella Blijdenstijn. Cover design by Meg Nezaj. Check out Artists4Freedom on Facebook for updates. Thanks to Gia Ibarra and Meg Nezaj for making this possible. The "Be Free" EP features the voices of Dutch world changing anti slavery, peace artists  Iwystars, Harry Loco and Johnito .
Featured artist: Iwanjka, born in Malawi is based in the Netherlands. He prefers to record his music mostly in the open air, surrounded by nature and the sea, which he refers as "pure recordings." Most of his tracks are 'first takes' without editing or mastering. "Changers song" featured in "Be Free" EP is his very first mastered track. This year he hopes to record studio quality tracks in his self-owned Power-Flower Studio. He has authored two eBooks titled Novaglobe, Diagnosis Life jam and also holds a science master degree in Information Engineering. He previously worked in the banking and insurance industries, displeased he left to be free to focus on social change activities and global community projects.  http://www.iwanjka.novaglobe.org/
Featured artist: Harry Loco
, creates a positive vibe where-ever he goes. His music features songs with heart, soul and great lyrics that remind you of the better days in the sixties. Harry's music is described as a great voice in combination with the brilliant sound of his Landola guitars (Finland) and screaming harmonica's sounds like Dylan in his best days. He performs regular shows in Europe and the United States. He started playing in the streets of London in 2001, and often performs for Amnesty International, War-child and other organizations against war, racism and injustice. Harry was invited and has played with many famous artists such as Peter Green
(Fleetwood Mac) Sheena Spirit (Santana, Bob Marley, Bob Dylan) and many more. March 2003, Harry performed Love to all the People during a protest against the attack of Iraq in front of more than 80,000 people on the Dam Square in Amsterdam (NL)
www.harryloco.com
Featured artist: Johnito,
was the singer of The Hague based rock band called Propeller, playing an unforgettable opening set to a protest rally in front of up to 25,000 people in Amsterdam in 2003. Johnito's sound is mostly influenced by the 80s and 90s electro pop and alternative crossovers, and can be described as electronic protest songs. Johnito has recorded one album so far, named Earth 1.9, released early 2011. Two of its tracks reached the best 100 songs ever recorded in The Hague. He is a solo recording artist since 2007, and had a short appearance in the Dutch movie "Bellicher: Cel" in 2012.
http://johnito.nl
Tracklisting
1.Changers' Song – Iwystars
2.Dear Michael – Harry Loco
3.Summer Jammed – Johnito
4.2012 The Song (Awake) – Harry Loco
5.I Am Here – Johnito
Be Free EP production: Produced by Music4Freedom Music & Production Music Campaign's team: Co-Producer Jide Meg Nezaj & Paul Ashmore who mastered the Be Free tracks at his Audio Animals studio, based in the UK.
Available on

iTunes – Music – Artists4Freedom
Spotify: Artists4Freedom – Be Free
Google Play
Sony Music Unlimited
Rhapsody
Amazon MP3
CDBABY
For the full list of all the online music stores where you can find the "Be Free" EP by Artists4Freedom:  CD Baby Digital Distribution
 See music4freedom.org for more info.
Samenvatting in het Nederlands (bron NuJij.nl)
Onder de naam "Artists4Freedom" hebben Harry Loco, Johnito en Iwanjka onlangs de EP "Be Free" uitgebracht, welke is te downloaden in alle bekende online muziekwinkels. De opbrengsten komen, via de stichting FSTH.org, ten goede aan slachtoffers van mensenhandel en moderne slavernij. Het artwork is van Majella Blijdenstijn, en aan het project is verder meegewerkt door Meg Nezaj en Gia Ibarra van het in Californie gevestigde Global Freedom Concerts.
Noot: dit is een re-release van de eerder verschenen EP, maar via een nieuwe distributeur. Oude links zijn niet meer geldig.