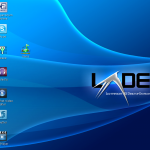 Rond elke jaarwisseling spreken massa's mensen goede voornemens voor het nieuwe jaar uit.
Dan gaat het meestal om een gezondere leefstijl, afkicken van een willekeurige verslaving, simpelweg aardiger voor anderen zijn, of nu echt eens iets aan die rommelkamer doen. Allemaal prima. Succes! Zelf ga ik ook eens een goed voornemen ten uitvoer brengen:
Om me heen hoor ik steeds meer mensen die, om wat voor reden dan ook, willen overstappen van Windows op één van de linux-distributies. Met enige regelmaat help ik, in mijn vrije tijd, mensen met de installatie.
Zoals jullie misschien weten ben ik inmiddels enkele jaren een tevreden gebruiker van verschillende linux-distro's, en die tevredenheid wil ik delen. Niet op geek-niveau (ben ik namelijk absoluut niet), maar gewoon als huis-tuin-en keukengebruiker.
Distributies als Ubuntu, maar vooral Linux Mint, Mageia en (mijn huidige favoriet) het lichtgewicht WattOS maken het juist voor fervente Windows-gebruikers eenvoudiger om over te stappen, al of niet door te beginnen met een dualboot.
Speciaal voor mensen als jij en ik ben ik daarom een project tegen Windows-verslaving begonnen, met het doel de overstap te vereenvoudigen.
Het principe is simpel: voor elk vaak gebruikt Windows-programma laat ik (zo mogelijk dagelijks) alternatieven zien, in het "Windows Detox Project."
De updates kun je hier volgen:
Facebook: Windows Detox Project
Diaspora: #windowsdetox (en via Diaspora ook automatisch dezelfde hashtag op Twitter)
Zie ook linux.johnito.nl
Ik wens jullie een fijne jaarwisseling en een voorspoedig, vrij, solidair, muzikaal, vreedzaam rechtvaardig en open source 2013!
httpv://youtu.be/wNCSbTyUzoM