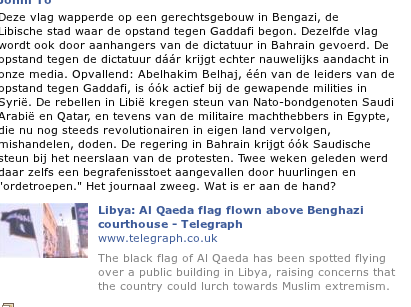 Zie ook:
-Pro-regime demonstranten in Bahrain hijsen Al Qaeda-vlag.
-Al Qaeda-vlag gehesen op gerechtsgebouw rebellenbolwerk Libië
– Steun van regimes Saudi-Arabië,Qatar,Egypte voor -Libische en Syrische milities
–AbdelHakim Belhaj, voorheen gelinkt aan "Al Qaeda",nu westers bondgenoot in Tripoli en Syrië.
–Regime Bahrain valt rouwstoet aan-de wereld zwijgt
–Jihadists, weapons 'moving from Iraq to Syria'  according to Iraqi minister who also wants private contractors to leave the country
–Why are we fighting on the same side as Al Qaeda?
–Patrick Cockburn: All the evidence points to sectarian civil war in Syria, but no one wants to admit it
–Nog steeds Amerikaanse wapens naar Bahrain
–Glenn Greenwald: The human rights "succes" in Libya
-Prominente activisten Zainab al-Khawaja en Huwaida Arraf gearresteerd; journalisten geweigerd door Bahrain in aan vooravond van de herdenking van 1 jaar opstand.
-Slechte grap van de week: koning van Bahrain vraagt Assad om "naar zijn volk te luisteren."
Niet onbelangrijk: Syrische oppositie is niét voor westers ingrijpen.
Uitdaging: Leg mij eens uit, gezien het bovenstaande, waarom de opstand in Bahrain nauwelijks aandacht krijgt…