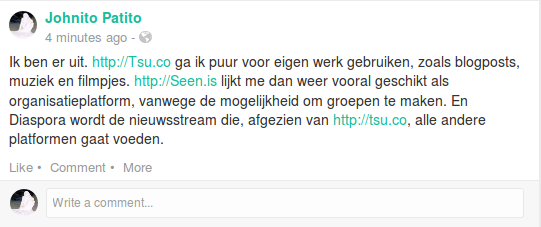 Vanaf 1 januari 2015 is mijn Facebook-profiel 'text-only.' Ik was op zich al langer van plan om Diaspora een hoofdrol te geven in mijn digitale sociale leven, maar helaas bleef Facebook voor de meeste mensen nog lange tijd toch the place to be.
De recente verduidelijking van de bestaande voorwaarden die het huidige grootste  sociale netwerk hanteert, heeft echter een ware leegloop op Facebook doen ontstaan.
Op Diaspora, tsu.co en vooral Seen.is regent het momenteel juist nieuwe aanmeldingen. De geplande rolverdeling van deze netwerken is, voor mij althans, hierboven in de screenshot beschreven. Aanvulling: voor wie me op Ello zoekt: dit ben ik: https://ello.co/johnitomusic
Om praktische redenen blijf ik nog wel een klein half jaartje op Facebook actief, in verband met mijn betrokkenheid bij de organisatie van (werktitel) 'Solidariteitsfeest 1 mei 2015.'
Vanaf zondag 10 mei 2015 zal ik geen profiel op Facebook meer gebruiken. Vanaf dat moment zal ik voorlopig alleen nog mijn communitypagina bijhouden. Deze zal voornamelijk, zoals nu ook al grotendeels gebeurt, via tumblr en diaspora worden gevoed. 
Zodra er hyves-achtige taferelen ontstaan, is het echt einde verhaal. Maar dat laat ik tegen die tijd wel weten.
Mocht het te verwarrend zijn: klik dan hier.
Veranderingen op dit blog
Onder het tabblad 'Music'  heb ik een Vimeo-widget geplaatst, met alleen muziekvideo's, en onder 'JohnitoTV' vind je, naast het livekanaal, nu ook mijn Dailymotion-video's.