Ik heb besloten me niet door Nederlands rioolrechts te laten gijzelen om het Oekraïne-referendum
te boycotten (of 'ja' te stemmen), en daarmee juist Oekraïens rioolrechts te legitimeren.
Op 6 april stem ik dus NEE tegen het associatieverdrag.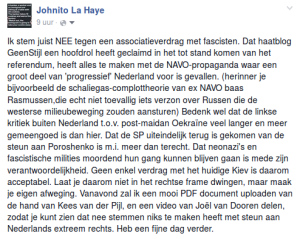 Mocht je nog niet besloten hebben, informeer jezelf dan hieronder.
Kijktips
De Oorlog in Oekraïne – een filmisch commentaar in tien delen
Joël van Dooren en Kees van der Pijl
Ukraine – The Masks Of The Revolution (by Paul Moreira)
Documentaire van de maker van 'Wikileaks : War, Lies and Videotape' – Bovenstaande documentaire werd eerder dit jaar uitgezonden op het Franse Canal+, terwijl het Oekraiense regime tevergeefs probeerde uitzending tegen te houden.
In Nederland verzorgde de SP verschillende screenings (waarvan de Rotterdamse editie kwam te vervallen wegens een mogelijk verdacht auto-ongeluk). Opvallend is dat de SP actief een Nee-campagne voert, aangezien senator Tiny Kox eerder nog de indruk wekte dat de partij het maidan-coupregime steunde. Inmiddels lijkt die koers dus drastisch veranderd.
Als oud-lid, die met lede ogen aanziet hoe een flink deel van zich links noemend Nederland zich voor het karretje van de NAVO en de neoliberale lobby heeft laten spannen, kan ik de koerswijziging van de SP alleen maar toejuichen.
Al moet je voor echte diepgang bij mensen als Kees van der Pijl zijn, die me de hieronder gelinkte lijvige brochure toestuurde, als onderdeel van de Nee-campagne van 'Oorlog Is Geen Oplossing.'
Om Van der Pijl te citeren uit zijn email: 'Onze inzet is om een Nee te helpen winnen, maar dan wel gebaseerd op inzicht en argumenten en niet met pleerollen en anti-buitenlandsentiment'
PDF:
Waarom we Oekraïne met rust moeten laten

En als je nog niet overtuigd bent, dan kun je altijd nog dit betoog van Willem Bos (Ander Europa) op je in laten werken:
Oekraïne-referendum: stap uit het rechtse frame – Doorbraak
Tot slot wil ik je dit interview met Michael Hudson niet onthouden. Met in context het door ex-NAVO baas Rasmussen's verzonnen Russische (anti-)schaliegascomplot.