Terror scare in Europe: Power Of Nightmares 2.0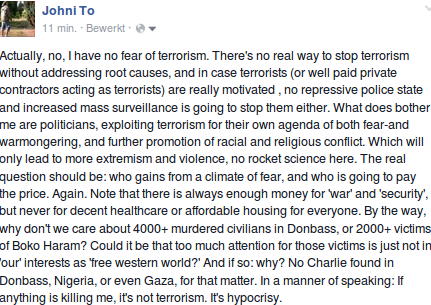 Also see/Relevante links:
Terreurdebat Tweede Kamer/Dutch Parliament
Charlie Hebdo massacre abused for attacking civil liberties
Flashback: The French Front National is still an extreme right-wing party
How to Beat Terrorism: Stop Making the Same 7 Mistakes – Een eind aan terrorisme in 7 stappen.
Hoe je nog meer potentiële doelwitten voor terroristen creëert: Antwerpen zet leger in
Power of Nightmares 2.0: So explain to me again how the West trains and arms 'moderate' Syrian rebels, of which many already have converted to Al Nusra and IS, while Ukrainian and Novorossyian anti-fascist activists and rebels are labeled 'pro-Russian separatists' and 'terrorists?' Is it a coincidence that far right neocons in the US still have influence on the American foreign policies, while their European counterparts now are calling to deploy the military in order to fight terrorism (by former IS and Al Qaeda/Al Nusra 'rebels') on European soil?
Right Sector claimed responsibility for deadly bus attack, before they found out the victims were civilians; media silent.
3,000 FSA Fighters Defect to ISIS in the Qalamoun Mountains
War by media and the triumph of propaganda – John Pilger (Nederlands vertaald)
Leger op straat dient ander doel dan veiligheid 
Obama's True Foreign-Policy 'Weakness' – Robert Parry on Obama, neocons and foreign policy
Wilders is de meest succesvolle 'neocon'
Ik kan het niet, maar doe het toch. Voorspellen. Update 9 januari 2015
Bin Laden and CIA (originally published by MSNBC)
Obama's 'Moderate' Syrian Rebels Are Nowhere to Be Found
Peter Dale Scott on Libyan 'Freedom Fighters'
Follow my updates on Diaspora*